NSS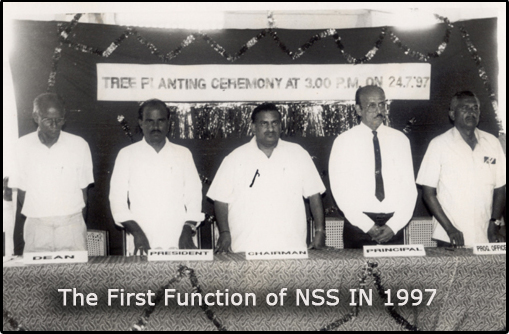 The NSS units of Sri Sai Ram Polytechnic College is doing Yeoman service since its inception for the socially backward and needy community at large under the untiring and inspiring leadership of MJF. Ln. Leo Muthu, Chairman, Sai Ram Group of Institutions and a well known philanthropist. Our Chairman MJF. Ln. Leo Muthu is instrumental in pioneering various social activities.
The NSS has been functioning with the sole aim of "Service to Society". The institution itself was started primarily to promote quality education to the semi-urban groups near Tambaram. By being in the NSS (National Service Scheme), the youth of our country is doing enormous service
To join the big club, in our institution also, NSS was started in the year 1997. There are three units functioning under the trained programme officers Mr. K. Sudhaharan and Miss. A. Kavitha. Three units are functioning enthusiastically with the motto, "Not me but you".
Unit – II   
Ms.A.Kavitha,
M.Phil Lect /English
B.E., Lecturer/CE
Mr.K.Sudhaharan
M.Phil Lect/Physics

Ten Days Special Camp
Every year we are adopting one village for our special 10 days camp. First few days will be spent for identifying the problems of the village.
Our activities during every special camps:
| | |
| --- | --- |
| | Counselling |
| | Eye camp and spectacles distribution and arrangements for cataract operations |
| | Conducting vocational training to the villages (statistical work / computers) |
| | The emphasis to have clean and green environments |
| | The need to have hygienic and pollution free living conditions. |
| | Helping the needy youngsters to get job opportunities |
| | Helping the people to develop self skills and arranging motivations talks. |
| | Conducting Science Exhibition and distribution of books to the poor students. |
| | Inviting VIPs to the camp to address the people for further enlightenment. |
| | Educating the youngsters to lead liquor, smoke and drug addiction free life. |
| | Educating the villagers to have social involvements. |
Special camps conducted in the past 12 years
| S.NO | Camp Venue | Year |
| --- | --- | --- |
| 1 | Ezhichur Village, Kancheepuram District | 2013 – 2014 |
| 2 | Acharappakkam Village , Kanchipuram District | 2014 – 2015 |
| 3 | Ezhichur Village, Kancheepuram District | 2015 – 2016 |
| 4 | Poonthandalam Village, Kancheepuram District | 2016 – 2017 |
| 5 | Keelamur village, Orathur village, Kancheepuram District | 2017 – 2018 |
| 6 | Palanthandalam & Thirumudivakkam Village, Kancheepuram District | 2018– 2019 |